VOXY - Voice of Oxfordshire's Youth
VOXY is a youth-led countywide forum which provides a voice for all young people in Oxfordshire (aged 11 – 18 and up to 25 with additional needs), so they can have their say about the issues that matter the most to them.
Image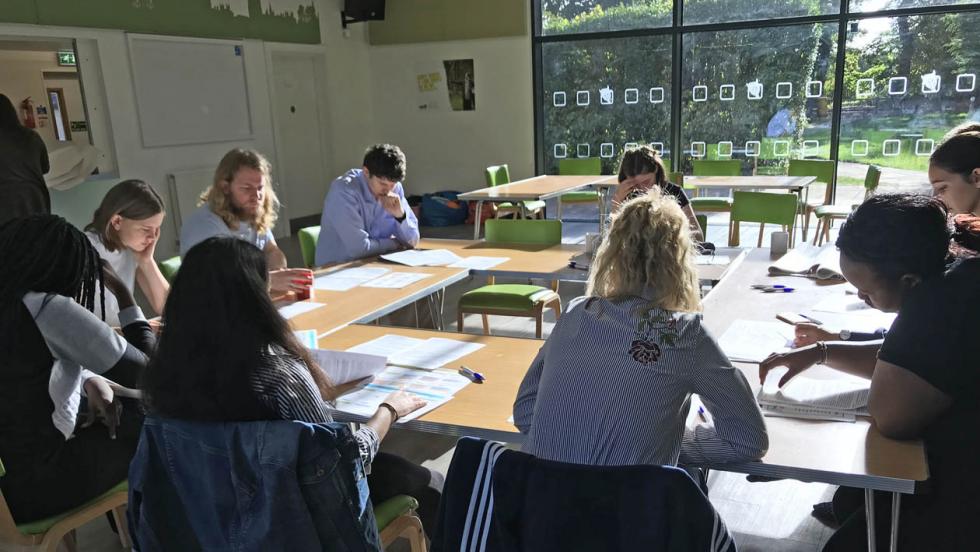 VOXY's Vision, Objectives & Meetings
Background
VOXY was the idea of a young person, who felt we need to reach out to more children and young people than we have ever done before, especially the most vulnerable and seldom heard, to hear their views and opinions.  They also thought this would be best achieved by working in partnership with lots of organisations across Oxfordshire.
Scroll down to find out more and how to join!
Be Supported Questionnaire

In 2019 and 2020 VOXY and the Children's Trust Board collected feedback from children and young people in Oxfordshire, aged 8 - 18 and up to 25 with additional needs, about how supported they feel by the services they use. This has been used to create reports that will help shape Oxfordshire's services for children and young people.

 

Feedback from 2019

Feedback from 2020

Read more about results from the 2020 questionnaire in this news article.
VOXY's Vision
VOXY's Vision is: "To provide a voice for young people in Oxfordshire to make decisions about matters that affect them, and influence change."
VOXY's Objectives and Terms of Reference
VOXY's ten objectives are:
To give a voice to young people across Oxfordshire
To ensure all young people have the opportunity to be included
To influence active and positive changes from issues raised by young people
To hold public bodies to account
To commit to working with partner organisations to achieve set goals
To influence actions of partner organisations
To be inclusive of existing and new groups
To commit to an equal and democratic process
To promote understanding of young people's and Children's Rights
To create a safe, open environment for young people to talk freely
Following a lot of discussion, meetings and hard work, the VOXY Vision and Objectives were created and agreed by VOXY Council members at the 2017 VOXY Residential, along with the VOXY Terms of Reference.
If you would like to read the VOXY Terms of Reference in full please contact VOXY@oxfordshire.gov.uk.
Want to get involved? Contact VOXY by email: VOXY@oxfordshire.gov.uk or by phone: 07919 298259.
VOXY General Meetings
VOXY aims to hold two General Meetings annually (during school holidays), which any young person in Oxfordshire aged 11-18 (and up to 25 for those with additional needs) can attend.  The theme for each meeting is chosen by young people at the previous meeting. 
At these meetings young people are given the chance to hear from the experts in Oxfordshire, as well as to take part in discussions and workshops with other young people and professionals - your anonymous feedback will be shared after the event and may result in real change.
These meetings are always free, refreshments, snacks and a nice lunch are provided, and there's a chance to win a fantastic Prize Draw.  We will reimburse young people's bus/train fares on the day, but if anyone has any transport issues, they should contact the VOXY Co-ordinator Rosie Boyes  on 07919 298259 or rosie.boyes@oxfordshire.gov.uk
Take Action: The next meeting is still in planning phase, any young people aged 11-18 (and up to 25 for those with additional needs)  can express an interest in attending the next meeting. Young people or their workers need to e-mail details ASAP to: VOXY@oxfordshire.gov.uk
VOXY Council and VOXY Council meetings
The VOXY Council (VOXY's steering group which makes all the decisions) is made of up to 20 young people who lead on everything VOXY – including planning and running VOXY General meetings.  Young people are encouraged and supported to lead discussions and become decision-makers, and to all have a say.
All members are offered ongoing learning and development to increase leadership and other skills and some VOXY Council members also hold elected roles, which include: VOXY Chair, VOXY Vice-Chair, Secretary, Publicity Officers and Children's Trust Board member.
There are 4 VOXY Council meetings a year, plus a residential (free of charge to all VOXY Council members) and extra planning meetings are also sometimes held.
Other VOXY opportunities to have your say
VOXY also provides additional opportunities for young people to have their say and give feedback on a range of topics (including virtually/online) in between VOXY General meetings. 
Once you have attended a VOXY General meeting or joined VOXY online, you will be contacted about getting involved each time something new is being explored by VOXY.
Take action: Any young person in Oxfordshire aged 11-18 (and up to 25 for those with additional needs) who lives or studies in Oxfordshire can join VOXY. If you are interested in joining VOXY and making your voice heard, or if you would like to find out more, please contact the VOXY Co-Ordinator, Rosie Boyes on: 07919 298259 or e-mail: Rosie.Boyes@Oxfordshire.gov.uk
Previous news from VOXY
On Saturday 5th October, VOXY held a Climate Event, as part of their 'Environmental Impact Campaign'. The event, which was planned by young people (from the VOXY Council) was a great success, with 30 young people attending to voice their opinions and concerns in relation to the environment, climate change, and the future. The event included workshops and presentations, as well as discussion activities, which were planned and delivered by the VOXY Council. 
VOXY's Partners and working relationships
VOXY Partners
VOXY is supported to run by three Management Partners – Oxfordshire County Council, Oxfordshire Youth and Oxford University Hospitals.  Management Partners meet 6 times a year, and these meetings include the VOXY Chair and Vice-Chair. 
You can find out more about these organisations here:
Approximately 30 other organisations are also VOXY partners, who have committed to working with and supporting VOXY.
VOXY has especially strong working relationships with Oxfordshire Safeguarding Children Board (OSCB)  and the Children's Trust Board which VOXY is part of. 
Two VOXY Council members attend every Children's Trust Board meeting - of which there are 4 a year – and VOXY has an ongoing slot on the Agenda to discuss VOXY business.
Children and Young People Plan
VOXY worked with other Children's Trust Board members throughout 2017-18 to develop the recently updated Children and Young People's Plan, which sets the strategic direction and priorities for services for children, young people and families in Oxfordshire and is a vital part of making this happen.
Read the Oxfordshire Children and Young people's Plan 2018-2021.
Have your say, experiences of VOXY members & how to join
Have your say
Most groups which work with children or young people have ways you can get involved in making decisions and shaping the organisation, activity or service. Examples of this are:
Youth Forums
School Councils
Youth Councils
If you are involved in any groups like these, you can still be involved in larger groups like VOXY, which work on a county level.  Getting involved in decision-making is an exciting experience. You can make a real difference.
Take Action: To find out more about how your organisation or youth group can get involved contact the VOXY Co-Ordinator, Rosie Boyes on 07919 298259 or e-mail Rosie.Boyes@Oxfordshire.gov.uk
Experience of current VOXY Council members
Here's what three current VOXY Council members have to say about their experience with VOXY:
"Taking responsibility is a very important thing for young people to do and I'm so glad we have the opportunity to make decisions." - James

 

"VOXY makes a difference – people hear us, listen to what we say and take it on board.  Young people don't always have this opportunity, but at VOXY we do." - Angel

 

"Since joining VOXY it's helped me develop my skills within a professional environment and helped to develop my resilience, and commit outside of school projects." - Jenny
How to join VOXY and find out more
Any young person aged 11 – 18 (and up to 25 with additional needs) who lives or studies in Oxfordshire can join VOXY.
If you are interested in joining VOXY and making your voice heard, or if you would like to find out more, please contact the VOXY Co-Ordinator, Rosie Boyes on  07919 298259 or e-mail Rosie.Boyes@Oxfordshire.gov.uk
Contact VOXY
VOXY's e-mail:  VOXY@oxfordshire.gov.uk
VOXY's website: www.oxme.info/VOXY
VOXY's Facebook: https://www.facebook.com/Voice-of-Oxfordshires-Youth-VOXY-2107381399511492
Find out more
VOXY Facebook
&nbsp&nbspLink up, get more information and join VOXY on their Facebook page
Be Supported Questionnaire
&nbsp&nbspPlease fill in The 2019 Be Supported Survey for all children and young people in Oxfordshire - closes Feb 17th 2019