Free Practical Training Courses in Bicester
Image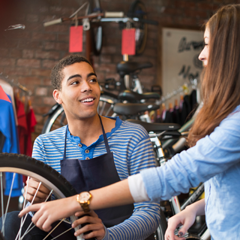 For anyone not currently in employment. A back to work scheme that includes practical skills!
If you have ever wanted to learn a little bit more about Woodwork, Bike Repair or any of the other introductory courses we have on offer then you've got nothing to lose!
What's on offer?
Bike repair
Up-cycling
Upholstery
Electrical repair
DIY
Who is it for? Anyone aged 16+ who wants to get into (or back into) work.
Courses are in handy three-hour chunks.
When is it? Tuesdays! The first taster session for the Autumn courses is on the 25th of October. The Winter taster session is on the 3rd January.
Cost
The courses are free. You may be eligible for up to £5 travel costs per session.
Book in for the taster session now:
Call 01869 388564 Email info@bicestergreen.org.uk Location Bicester Green, Station Approach, Bicester OX26 6BZ
For more information, download the leaflet.