The hidden harm of honour based abuse
Image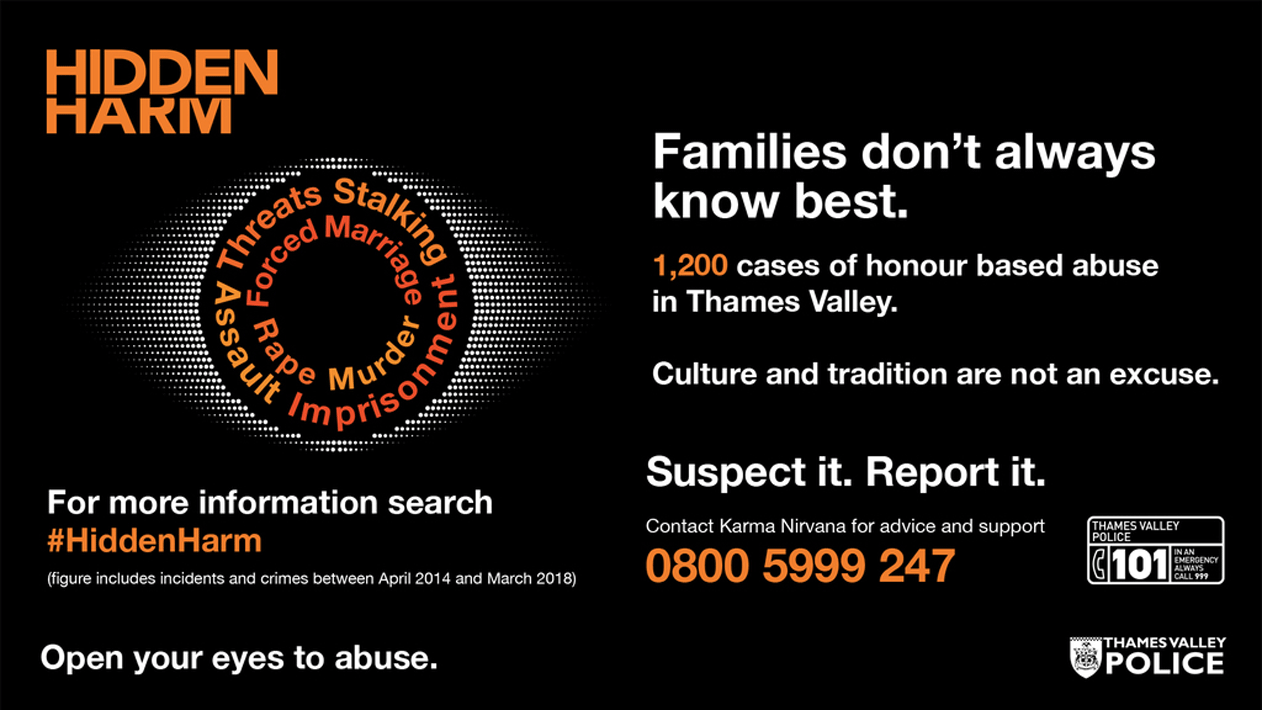 Culture and tradition are not an excuse for abuse - take action this July to raise awareness of honour based abuse
Thames Valley Police is launches the latest phase of its Hidden Harm campaign today by sharing the message that culture and tradition are not an excuse for abuse.
In the past four years, TVP has dealt with 1,200 cases of honour based abuse (HBA) - Honour Based Abuse and Forced Marriage incidents and crimes April 2014 to March 2018. As offences are not always reported, there may have been many more.
The force is urges everyone to open their eyes and learn to spot the signs of abuse and to report their concerns.
Abuse is abuse - the reason behind it doesn't matter!
Detective Superintendent Nick John, Head of Thames Valley Police's Protecting Vulnerable People unit wants everyone to learn more about HBA, including how to protect their friends and family, report concerns and raise awareness. He says:
"There are a number of different ways honour based abuse can manifest itself. For example, someone may be abused by their family for being in a relationship with a person of the same sex or from a different culture, they may not want to take part in an arranged marriage or they may be simply wearing clothing or taking part in activities not considered 'traditional'.
"Anyone can be a victim of honour based abuse. This campaign isn't about singling out any particular faith or culture, it's about getting people to understand that abuse in the name of 'honour' is a form of just that - abuse - regardless of the reason behind it.
"Our first priority is always to keep people safe from harm. Just because you contact us doesn't mean you're going to be taken away from your family or that they'll be prosecuted."
Not just girls, not just young people
With around 20% of forced marriage cases involving male victims, it's important to remember that boys are at risk too. And while young people may seem more vulnerable, older relatives and friends may also find themselves targeted. Abuse can escalate quickly and be hard to stop. If HBA is taking place it's important to act quickly so support can be put in place for the victim and their family.
Building confidence and supporting communities
Over the next two weeks (2 - 15 July) the Hidden Harm Honour Based Abuse campaign will raise awareness and share information about signs to look out for and how we can support victims and their friends to identify abuse and seek help.
Look out for poster campaigns, social media myth-busting and fact-sharing from @ThamesVP and their friends (check #HiddenHarm) and local community engagement activities. The campaign will also be supporting the National Day of Memory for Honour Based Killings (14/7).
They've also created this video to help share understanding and encourage people to seek help:
Find out more
TVP
&nbsp&nbspThames Valley Police's Campaign to raise awareness of abuse and encourage the public to spot the signs and report concerns.