MAN V FAT coming to Bicester
Image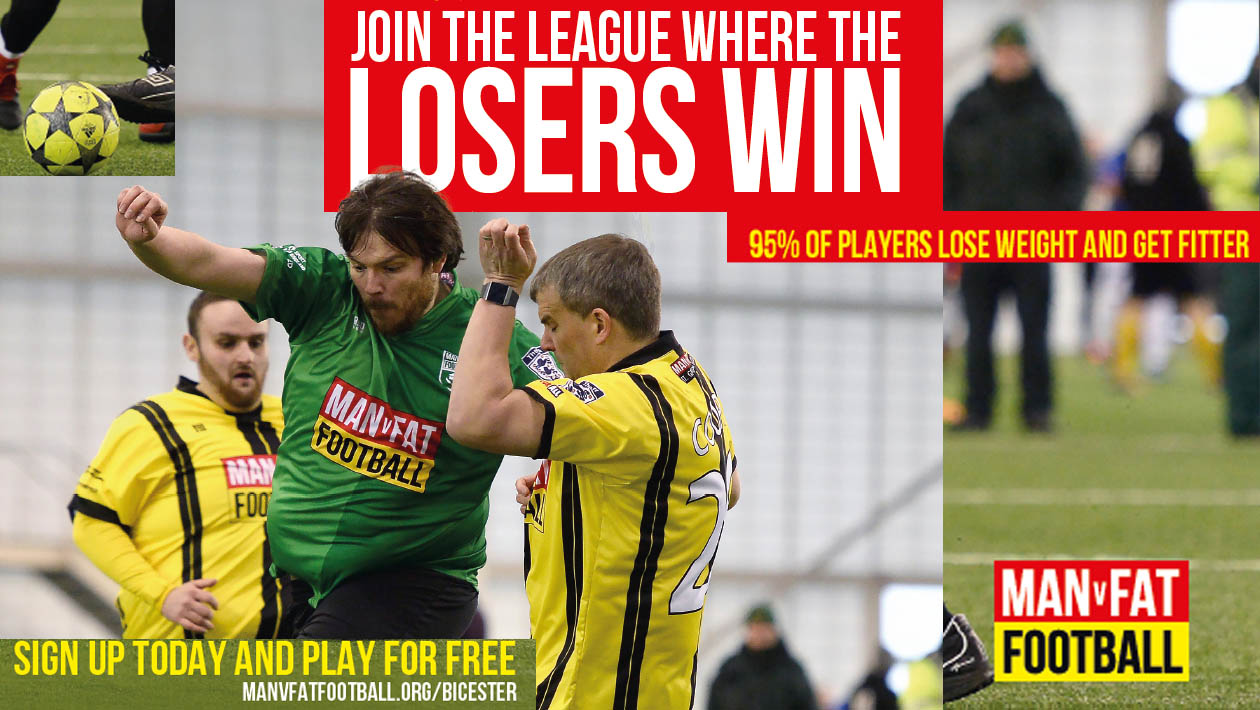 MAN v FAT weight loss football league is coming to Bicester for men 16+ who want to lose weight - and it's absolutely free thanks to Achieve Healthy Weight Loss Oxfordshire
Bicester men who want to tackle weight issues can sign up to MAN v FAT, the incredibly successful weight loss league which sees 95% of players losing weight and some players losing up to 70lbs during the 14 week league!
This official Football Association endorsed leagues combines football with easy to follow diet and lifestyle advice. 24/7 online and offline support keeps you on track.  Six-a-side football is spiced up with extra goal bonuses awarded depending on pounds lost by players. Weigh-ins before each game track progress. It's a real team effort that brings massive health benefits.
Andrew Shanahan set up MAN v FAT because he was fed up with boring weight loss classes. It has been a runaway success that has seen men shedding pounds across the nation, and Andrew is looking forward to even more weightloss success this year: "Across 2017 our players lost more than 7 tonnes in weight and we know that we're going to smash that in 2018 with leagues like the one in Bicester"
Schedule
MAN v FAT Football launches at  Whitelands Farm Sports Ground, Bicester, OX26 1AJ on 4th May 2018, and runs every Friday 8pm-10pm for the next 16 weeks.
The league is completely FREE of charge, working in partnership with Achieve - Healthy Weight Loss Oxfordshire the Adult Weight Management Service for Oxfordshire. Download the flyer.
Join up by calling Achieve – Healthy Weight Loss Oxfordshire on 01865 338119 or signing up at www.manvfatfootball.org/bicester
Find out more
Not in the Bicester area, but want to join a league? Want to find out more? Use the links and videos below to explore the weight loss league for ordinary blokes who like football. 
Find out more
MAN v FAT Football
&nbsp&nbspGet your kit on! Find out all about how MAN v FAT is kicking the pounds off overweigth and obese men across the nation