Mental Health Awareness Week 2019
Image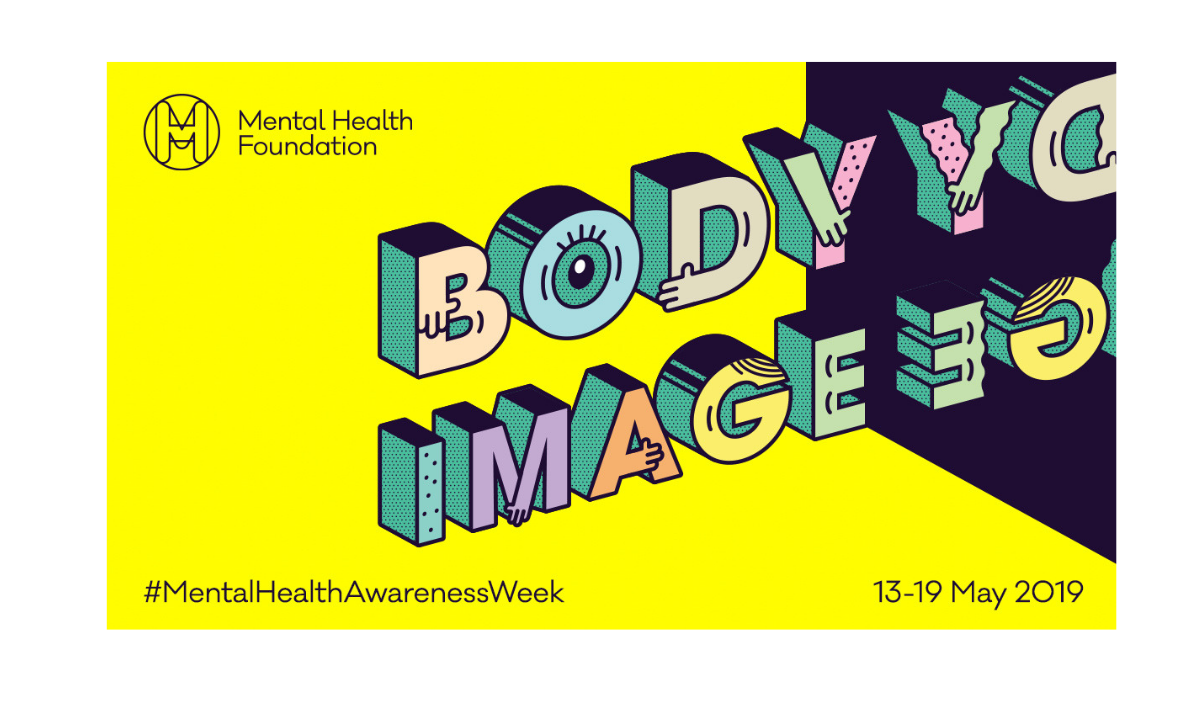 This week is Mental Health Awareness Week 2019, and the theme this year is body image - how we think and feel about our bodies
This week is Mental Health Awareness Week, and this years theme is body image. This is a week where people are encouraged to speak out and learn more about mental health issues. This years theme is 'how we think and feel about our bodies' and how this relates to our mental health and wellbeing.
Did you know - 40% of teenagers said images on social media caused them to worry about their body image?  But simple things like turning off the screen, talking to friends and taking time to do the things you enjoy can make a real difference to everyday wellbeing. And when problems get worse, support is available.
What can I do to help myself?
Try talking to somebody, this could be a friend, family member, trusted adult or professional - and it doesn't have to be about mental health, or problems, you just need to connect to lift your day
Find the best way that works for you to be active - anything helps, but getting outside gives you an extra boost.
Even of if you're not in school or college, find a way to learn - it keeps your mind active and moving forward
Even days when you don't have much to give,  small things like a smile or a hello can improve your wellbeing
Find the way that works for you to take a break from activity, business, life online and be mindful, take care of yourself and build your well being.
These five ways to wellbeing are  proven to support everyday mental wellbeing, but if problems become more serious, then more support is usally needed.
What can I help someone who's struggling?
Don't force them to talk.
Keep inviting them, seeing them, including them.
Send things (like pictures of messages) that remind them you're there for them
Ask them what they want to do, and listen.
Offer hugs, reassurance and kind words.
Tell them that you're always there for them.
Getting more help
Oxfordshire Child and Adolescent Mental Health Service (CAMHS) can help children and young people having a mental health problem, difficulty or crisis in Oxfordshire. There's lots of advice on helping yourself, plus information about what to do in a crisis. You can find out more about CAMHS from Youngminds, where there is a wealth of support for all kinds of mental health concerns.
If you're at school or college your School Health Nurse can provide lots of support around mental health problems big or small - whatever the difficulty is, discussing it with someone can really help. There are details on that page of how to contact the School Health Nurse Service if you aren't at school, for example if you are home educated.
If you're at university or work, then check your organisation's website, intranet or noticeboard for mental health support. Most large organisations have tools, training, wellbeing activities and more - ask what's available.
If you're not in employment, education or training (NEET) then taking care of your mental health is even more important as studies show that working or studying are protective of mental health. You can talk to your EET support worker about doing regular activities to support your wellbeing and contact the Oxfordshire Mind Information Service to ask about wellbeing groups in your area.
Useful helplines
There are lots of different services and organisations that offer help and support with people who have a mental health problem, these include:
Body image
This short poem below, written by Priscila Hernandez, explores the connection between body image and metal health.
Find out more
Mental Health on the Mix
&nbsp&nbspEverything you need to know about mental health, from anxiety and depression to self care and counselling
Young Minds
&nbsp&nbspHelping all young minds be supported and empowered - includes a parent's helpline