Merry Christmas from OXME!
Image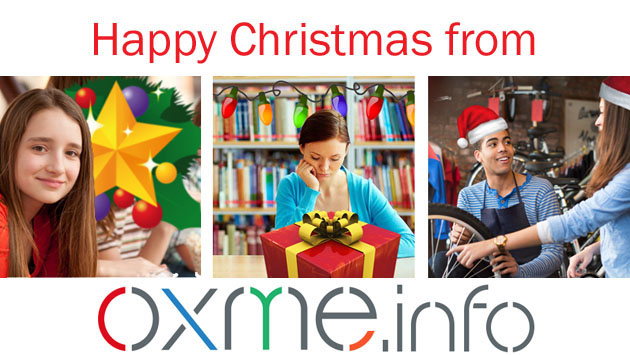 Closures and changes over the Christmas period.
Christmas closures and changes:
Over the Christmas week (24-30th December) the OXME.com web chat will be closed, but you still leave us a message and we will get back to any enquiries in the new year.
There have also been some dates changes for the CHOICES drop - in sessions. The only session that will be running over the Christmas week will be on the 27th December in The Westgate Library, the following sessions will not be running during the Christmas week:
Abingdon
Banbury
Didcot
Witney 
How to cope with Christmas pressure:
Christmas time, although may be jolly, can also be very stressful and pressurizing, especially for young people. If you feel yourself starting to get stressed there are things that can help:
Remember, Christmas is about more than just expensive gifts, something home made or personal can mean just as much to the other person.
Spending so much time with friends and family can tire you out, make sure you get some 'me' time.
Christmas is a busy time so make sure you get time to relax, go for a walk or read a book.
Eating and drinking is part of the Christmas fun but make sure you look after your health and safety. Take care when you're out and if you're partying at home remember accidents can happen and it's easy to hurt peoples feelings, so take care of friends and family too!
If you'd like to find out more about coping with stress and anxiety visit our 'Stress and anxiety' page.
Find out more