Every year fewer young people in the UK start smoking. Smoking is dropping fastest of all in those aged 18-24. Find out how to get help if you, or someone you care for, is smoking.
Image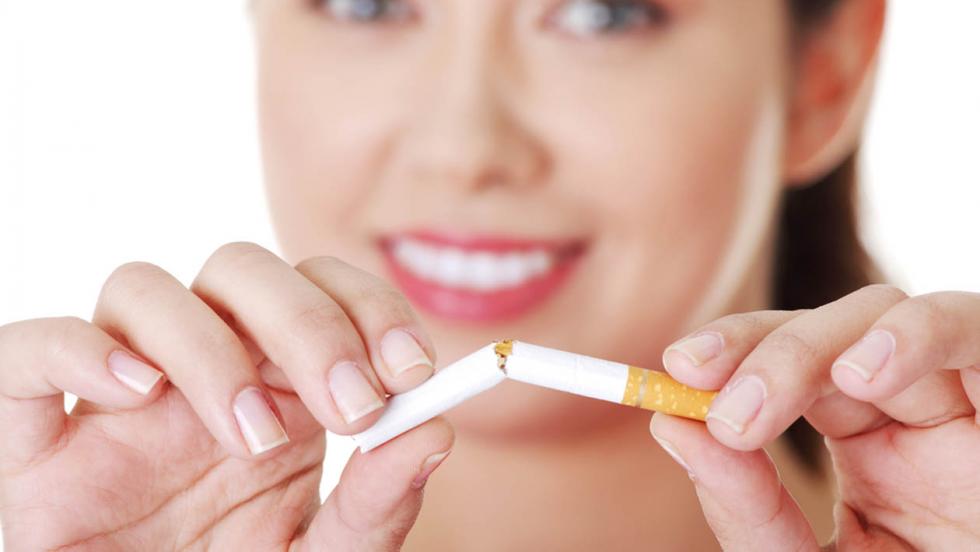 Most adult tobacco smokers started smoking when they were a teenager. Half of them will die early as a result of smoking. On average a smoker will, in their lifetime, spend £40,000 on smoking.
When people start smoking, they don't expect to get addicted, even though nicotine (the active ingredient in cigarettes) is one of the most addictive substances in the world. The younger you start smoking, the more damage your body will suffer as you get older.
Every year, fewer young people start smoking. But those that start are at risk of serious health problems.
Crucial: Young people who start smoking in their teenage years usually have friends or family members who smoke. Some report that these friends encourage them to smoke. If someone gives you cigarettes or encourages you to smoke, they are harming you, and may be trying to exploit you. 
Risks of smoking
Someone who starts smoking at 15 is three times more likely to die from cancer than someone who starts smoking in their mid-20s.
Smokers are also more likely to get serious diseases like diabetes, heart disease or dementia.
But that's not all:
Smoking harms your ability to breathe, and makes your lungs weaker.
Smoking damages your hair, clothes and home, making it dirty and smelly.
Smoking yellows or browns teeth, hands and fingernails and damages and weakens them over time..
Smoking release chemicals which can cause cancer, and these can linger anywhere you have smoked for months.
Smoking reduces your sense of taste, smell and doubles your change of losing your sight.
Smoking reduces blood flow to the skin, leading to wrinkles and dull, greyish skin.
Smoking increases the risk of many diseases, and makes the health risks worse for any pre-existing  condition.
This is only a few of the ways that smoking damages your health.
Take action: Download the NHS Stop Smoking App for tips, support and motivation to quit.
Costs of smoking
On average, most people who quit smoking save £250 a month. But even if you only smoke five cheap cigarettes every day, you could save over £800 in a year. Some people find that promising to buy themselves something they want with the money they save is a great motivator to quit.
Instant Expert: Enter your pack costs and how much you smoke into the Cost Calculator to find how much money you could save!
Are roll-ups a better option?
People who smoke roll-up cigarettes (rollies, roll-your-own, RYO) often say they smoke less and spend less than people who use shop-bought cigarettes. But studies show that though they spend less (on average, half as much as those who smoke factory-made cigarettes) they don't smoke less. People who smoke roll-up cigarettes are also, on average, less likely to quit and less motivated to quit smoking.
Instant expert: The good news is that roll-your-own tobacco use will not make it harder to quit if you make a serious quit attempt. Read the study.
How to stop smoking, step by step
You know the risks, you're sick of the cost and you've decided it's time to stop smoking. You are four times more likely to successfully become a non-smoker with support and access to medication.
Decide to stop smoking and set a date.
Get your support in place - tell supportive friends and family members.
Calculate how much money you will save, and decide what you will spend it on.
Stop smoking and stick to your plan!
Stopping smoking can be difficult. Some people find helplines work. Others find that they need nicotine replacement therapy or e-cigarettes. 
Experience: I started smoking when I was thirteen to impress a girl, and carried on even after we broke up. I got to age 15 or 16 and felt I needed to quit because it was expensive, and my running speed - which you would expect to increase over two years - actually went down (I ran track). Stopping was quite straightforward for me, as because I was underage my friends were getting me cigarettes. So I told me friends I was quitting and they shouldn't give me any more cigarettes. Just like that. They all supported me even though they were carrying on smoking; they were my friends and good people and they understood and supported me, even when I said I wanted a cigarette they said "no, you're quitting". I have been happily smoke-free for over three years now. James, 19
Here's how to get support:
Contact Smoke Free Life Oxfordshire to get their expert help and resources and quit for good.
Sign up with NHS Smokefree, and get the Quit kit, app, newsletters and everything else you need to help you give up for good.
Go to your local Pharmacy (Chemist). Many of them have stop smoking advisers and all can provide stop smoking medicines.
Download a stop smoking app like Smokefee, Smoking Cessation Nation or Quit with Bella, or sign up for text message support.
Go to your GP (Doctor). They will take you seriously and are keen to support young smokers to quit. 
You can find lots more general advice about how to give up smoking from the NHS, including what to say if friends who smoke try to put you off quitting.
Crucial: Smoking cannabis has all the health risks of smoking cigarettes, plus some more! Evidence suggests that smoking cannabis is particularly dangerous for younger smokers. Find out more about Drugs and Health.
The law
It is illegal for retailers to sell any tobacco products to anyone aged under 18. It is illegal for adults to buy tobacco products for anyone aged under 18. Smoking is banned in all enclosed workspaces and public places at all ages. Smoking is banned in enclosed cars carrying children under the age of 18.
Crucial: It is illegal to purchase tobacco for or on behalf of a person aged under 18 (proxy sales). Shops selling to children can be fined or closed. You can report any business selling age-restricted products to underage people via Trading Standards.   
Illegal tobacco
Illegal, or illicit, tobacco is smuggled, bootlegged or counterfeit cigarettes and tobacco products. Illegal tobacco has not been subject to the same safety checks, and has been found to contain even more unsanitary and unsafe ingredients than regular tobacco products. Communities are at risk from illegal tobacco as sellers are criminals, so areas that tolerate sale of illegal tobacco become less safe. Sellers may also sell cheaply to encourage addiction, sell to children, divide packs to make getting into smoking easier, and sell contaminated or dangerous products.
Crucial: Anyone can report the selling of illegal tobacco  anonymously online to Trading Standards at www.stop-illegal-tobacco.co.uk or call the Illegal Tobacco Hotline on 0300 999 6 999.
Alternatives to cigarettes
What about shishas, rollups, e-cigarettes and other alternatives to cigarettes?
All products which contain tobacco are damaging to your health, and no retailers are permitted to sell these to young people aged under 18. All products which contain nicotine are potentially addictive. Inhaling smoke is harmful to health even if it does not contain tobacco or nicotine.
Shishas (water pipe, hubble bubble, hookah) usually include tobacco, and encourage heavy smoking.
Chewing tobacco increases risk of mouth cancer.
Roll-up cigarettes and pipes are harmful to your health in exactly the same way as shop-bought cigarettes.
Herbal mixes (without tobacco) still involve inhaling smoke which is harmful to health.
No-one should be supplying any tobacco or tobacco-related products to young people under 18.
Take Action: Anyone selling tobacco products to those aged under 18 is breaking the law. If you're living in Oxfordshire you can report any crime to Thames Valley Police, but you will need to leave your name. If you would prefer to remain anonymous, you can report crime to Crimestoppers. The person breaking the law is the retailer, not the young person. 
E-Cigarettes and vaping
Electronic cigarettes (e-cigarettes) are a new product which heats a fluid to create a water-based vapour which is inhaled (vaping). The vapour includes flavourings and other ingredients. Some include nicotine, and are used by smokers to support giving up smoking. 
Based on current evidence, e-cigarettes are less harmful to health than cigarettes. But because they are a new product, no-one knows exactly how serious the long-term health risks will be. 
However, if vaping products are used correctly, health risks should be less severe than smoking. Evidence does suggest that e-cigarettes can support some existing smokers to quit.
But if you do not smoke, then it is risky to start vaping. Though the risks are lower than smoking, vaping does expose you to health risks.  
Crucial: Shops are not allowed to sell vaping products to under 18s, and if adults buy vaping products for under 18s, they are breaking the law.
Find out more