Dance is a great form of exercise to test your abilities to perform, make new friends and have fun.
Image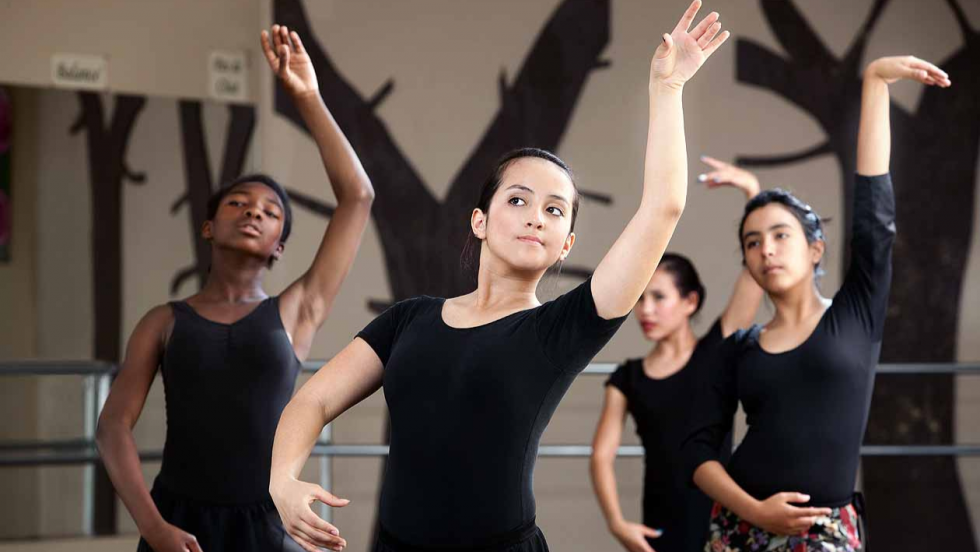 Why should you dance?
You should dance because it is a fun and creative challenge to showcase your talent and have fun. You can dance in various styles, for example; ballet, tap, jazz, musical theatre, hip hop and many more. Dance has been proven to help many with building confidence, motivating young people to work hard and making new friends through your shared interest.
Dance is a form of artistic entertainment and opens many career opportunities, whether that's performing in theatres, teaching students or working in films. Dance can be enjoyed by everyone.
What are the benefits of dance?
Dance allows you to keep fit and healthy, boosts your mood and supports your mental wellbeing. It also allows young people to take a break from their studies and school stress by expressing their creativity.
Dance also gives you valuable skills you can use later in life. For example, when writing your CV you can include how you used teamwork skills with a dance team. You could also  provide evidence that you can be dedicated to dance and give it your all.
Did you know that many sports professionals practice ballet in order to improve their flexibility, speed, agility and endurance. In this video from the BBC you can hear how ballet helps rugby players improve their game. 
Ways to get involved in dance
There are lots of different ways you can get involved:
Crucial: Dance is for everyone! There are classes suitable for all ages, abilities and types of dancer. If you're interested in getting dancing, check out the Activities Oxfordshire website for dance classes and clubs in Oxfordshire. There are also many classes and courses available online for people who just want to try out a class.
Where can I watch dance?
Dance is not just enjoyable when you do it yourself, it is also a fun source of entertainment. As well as dedicated dance shows there are lots of shows that include dance like musicals, opera and contemporary dance.
There are lots of places to watch dance around Oxfordshire:
Watch the short video below to find out from working professionals why they dance.
My experience

I have been dancing from a young age and have been able to visit some amazing places as well as achieve some personal goals of my own. For example, back in 2019 I attended the IDO dance world championships in Germany with my team representing Team GB and was able to meet dancers from all around the world.

In March 2022 I was also given the opportunity to perform on the Move It mainstage in London alongside industry professionals. That was an unforgettable experience, and it was so much fun dancing alongside my friends for such a large crowd, especially after the pandemic put a halt on large audiences.

Dance has given me something to be passionate about and I'm very grateful to have found something that is so important to me as well meeting some amazing people, forming some lifelong friends. - Lily, work experience student.
Answering your questions:
What should I wear? It all depends on what style of dance you are interested in and your studio's dress code. My best advice is if you're joining an in-person class, talk with someone who attends the class already or the dance school's teacher. It is also worth checking online for if you need certain shoes or hair styles for example ballet may require hair tied back and ballet flats.
Which style of dance is the best to learn? It all depends on personal preference and what you enjoy the most. To give yourself an idea I recommend looking at what type of music you listen to. For example, if you like slow and romantic songs you would probably enjoy lyrical and contemporary or if you prefer fast and upbeat music I recommend commercial or hip hop. It is also worth watching dancers online and see which style most inspires you.
Am I too old or too young to start dancing? Of course not, dance doesn't have a set age. If you have a passion for it go ahead and join in!
By Lily Lovatt, work experience student
Find out more
Dancin Oxford
&nbsp&nbspFind out what classes Dancin Oxford offer.