Domestic abuse is when someone is being hurt or victimised by their partner. It is a crime and is never okay.
Image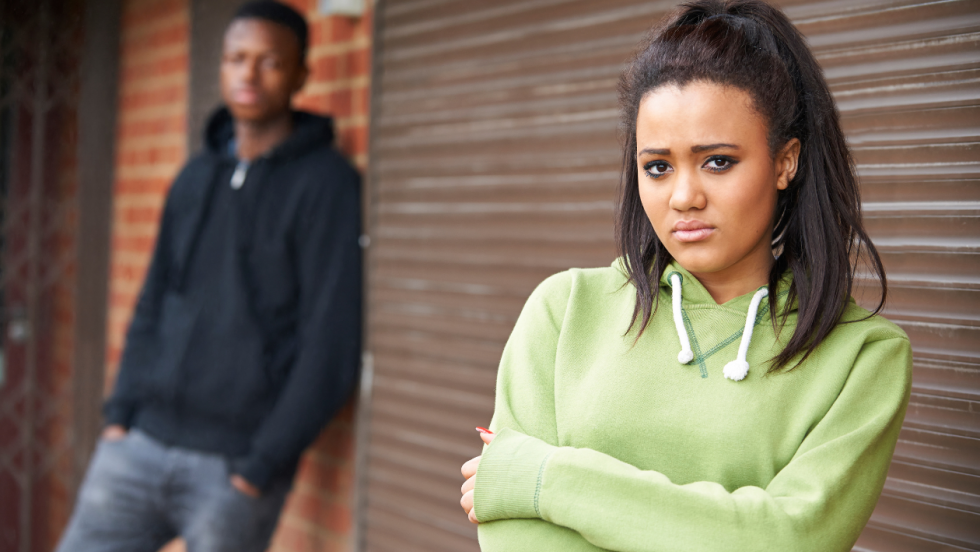 Family members and partners sometimes disagree, and it's OK to be angry. But anger needs to be expressed safely, so that:
no one is hit or hurt,
no one feels afraid,
and no one feels abused.
When arguments involve violence or threats, intimidation, manipulation, lying or always putting people down, this is abuse. 
Abuse can happen to anyone, of any age. There is no one reason why abusive situations happen. They can be difficult to sort out, but support is available.
Crucial: If someone is in immediate danger or badly hurt dial emergency services 999.
What is abuse?
Abuse is when someone does bad things to someone else over a period of time.
There are different kinds of abuse:
Physical Abuse
Neglect
Sexual Abuse
Emotional Abuse
Part of learning about relationships, is learning to spot the signs of abuse. This video talks about some of the signs of relationship abuse:
Why does abuse happen?
Young people may be more at risk of abuse in relationships. But domestic abuse can happen at any age, including to young and very old people.
Where there is a big power imbalance in the relationship (for example, if someone is much older, or has a lot more friends, independence or money, or considers themselves to be much better than the other person) then there is a higher risk of abuse, because there is less respect.
Crucial: Domestic abuse causes harm to everyone in the home. If someone in your home is being targeted by someone they are (or have previously been) in a relationship with, it is important to get help. If you're not sure how to start the conversation, you can contact Childline or talk to your School Health Nurse.
Why does abuse carry on?
Relationships often carry on, even when they have problems. This can be hard to understand for other people not in the relationship. But each situation is different.
It is normal and okay to need help to stop the abuse for good.
You can get support to stop abuse. This can include support to end the abusive relationship. It can also include things like counselling, and learning ways to change relationships and improve behaviour.
Crucial: Challenging sexual harassment helps create a safer environment for everybody, and makes it easier to ask for help. 
Domestic abuse and families
Domestic abuse of a parent or someone else in your home and also harms the children in the household. This might include feeling sad and frightened, or having to deal with problems on your own, or caring for brothers and sisters.
When domestic abuse is happening, everyone in the household suffers. If:
You are witnessing violence between family members
You're afraid of a family member getting hurt, or of getting hurt yourself
You no longer feel safe at home
It's not your fault, you are not alone and you can get help.
Getting help with domestic abuse within your home:
Talk to a trusted adult such as a teacher, School Health Nurse or another worker
Call Childline on 0800 1111
Call the police on 999 if you are in immediate danger, or 101 if not an emergency
Stalking
When someone tries repeatedly to contact, harass, hurt or upset you, it is called stalking. This can include:
Regularly sending flowers or gifts
Making prank, nasty or persistent phone calls or texts
Threats of violence to you or others
Damaging property
Following, spying and chasing
Attacking
Stalking is dangerous, even if the person stalking insists that they mean you no harm. If you are being stalked, it is important to let someone know right away.
Take Action: You can call the National Stalking Helpline on 0808 802 0300
Getting help if you are being stalked:
Call the National Stalking Helpline on 0808 802 0300
Call the police on 999 if you are in immediate danger, or 101 if not an emergency
Risky Relationships
Some relationships are riskier than others. Things like substance misuse, mental health difficulties, addiction and joblessness can increase the stress in a relationship. Past experiences can also cause difficulties in relationships. But recovery is possible and support is available.
My experience: We realised we both came from homes affected by domestic violence and would need help and support if we were going to "break the chain". That was two years ago. We still have our ups and downs, but have learned loads of ways to cope with those explosive feelings that used to end in violence. If you and your partner want to change, don't be afraid to go for help, even if you are a man. - Ayla,18