Honour based abuse is any kind of abuse done to somebody because of beliefs or customs about how someone should behave. Honour based abuse is illegal in the UK and a serious crime.
Image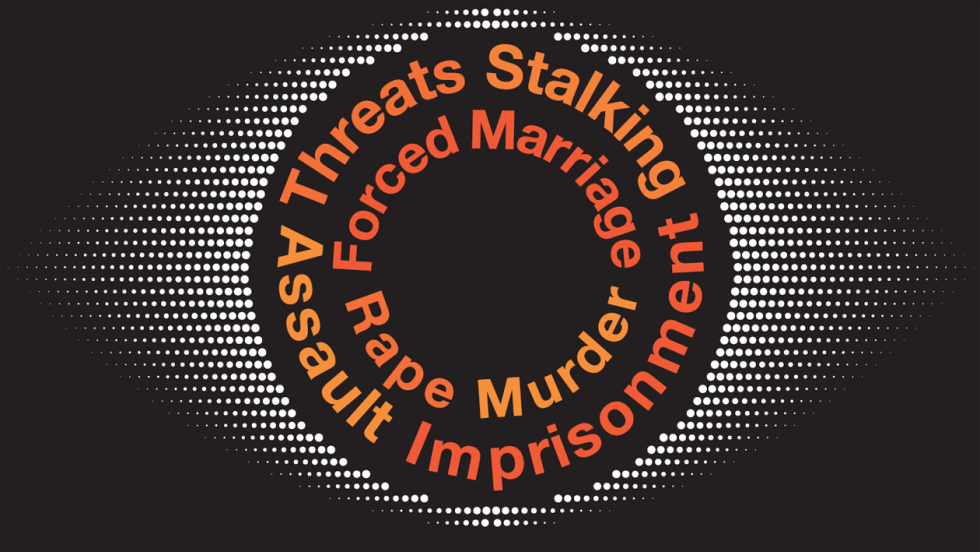 Honour based abuse (HBA) is any type of abuse committed against a person in order to protect or defend the perceived 'honour' of a family or community. 
Abuse can be emotional, physical or sexual and can involve:
Threats of violence or actual violence.
False imprisonment, including taking people to places or countries against their will.
Stalking and spying on people.
Sexual violence and assault, including forced marriage. 
Serious injury, threats to life and murder.
People committing HBA usually work with other people, but sometimes act on their own. Adults and children may be at risk. Family members and friends may also be targeted.
Every year a National Day of Memory for Victims of Honour Killings on 14th July celebrates the lives of those lost to "honour killings" and remembers them as the most honourable of beings. 
Why does honour based abuse happen?
HBA is not about religion. It is to do with attitudes, customs, and feeling that people should behave in a certain way or they will bring 'shame' or 'dishonour' on their family or the wider community.
Honour based abuse is rare in all communities. But when it does happen, it can lead to very serious and dangerous crimes. This includes things like rape, serious assault and murder.
The people who commit HBA are often family members, friends or people in the victims's community; the very people who should be protecting and supporting them.
If HBA is happening it is crucial that firm action is taken to stop it quickly, because, in common with other kinds of abuse, it it is very hard to stop without help and gets more serious over time.
Crucial: There were 1,200 cases of abuse in the name of "honour" in the Thames Valley area between April 2014 and March 2018 including people of all ages, both sexes, and from lots of different backgrounds. Find out more, including how to report abuse.
No excuse for abuse
Culture and tradition are not an excuse for abuse. 
In the past four years, Thames Valley Police have dealt with 1,200 cases of honour based abuse. But it is likely that many more offences have been committed but have not been reported.
There are a number of different ways honour based abuse can manifest itself. For example, someone may be abused by their family for being in a relationship with a person of the same sex or from a different culture, they may not want to take part in an arranged marriage or they may be simply wearing clothing or taking part in activities not considered 'traditional'. - Detective Superintendent Nick John, Head of Thames Valley Police's Protecting Vulnerable People unit
Abuse in the name of 'honour' is still abuse, regardless of the reason behind it, and it can escalate quickly. Taking action to stop the abuse is crucial.
Take action: You can report a child at risk of abuse in Oxfordshire here, including yourself. You can call the police non-emergency number on 101 or report a non-emergency crime online. If it is an emergency or someone is immediate danger you can call 999. 
The first priority is always to keep people safe from harm. When someone asks for help, the priority is to work with everyone to make sure that they are safe and any abuse stops.
Worried about a friend or family member?
HBA could be happening in your community or to someone you know. It's important you know some of the warning signs to look out for such as:
Seeming withdrawn or poorly performing at school or work
Having their movements controlled, regular family disputes or running away from home
Signs of physical injury or self-harm.
Other signs might include being kept away from school, being forced to look or behave in a different way, or being forbidden to see friends or take part in activities.
Crucial: If someone is suffering or at risk of Honour Based Abuse they are also at increased risk from other kinds of Abuse, like Female Genital Mutilation, Child Sexual Exploitation and Domestic Abuse.
Boys are at risk too
Although girls and women are more often victims of HBA, boys and men are also at risk. People who are LGBTQ may also be at risk. But anyone can be a victim. Overall:
20% of forced marriage cased involve male victims
There are 12 "honour" based killings in the UK every year
The signs of abuse are not always obvious. But if you suspect something, you can take action, and help keep people safe from harm. 
Find out more
Karma Nirvana
&nbsp&nbspCharity supporting victims of honour-based abuse and forced marriage. Confidential helpline 0800 5999 247 Mon-Fri 9am-5pm