Swimming is a great form of all-round exercise. It's ideal if you want to be more active and stay healthy, whatever your age or ability.
Image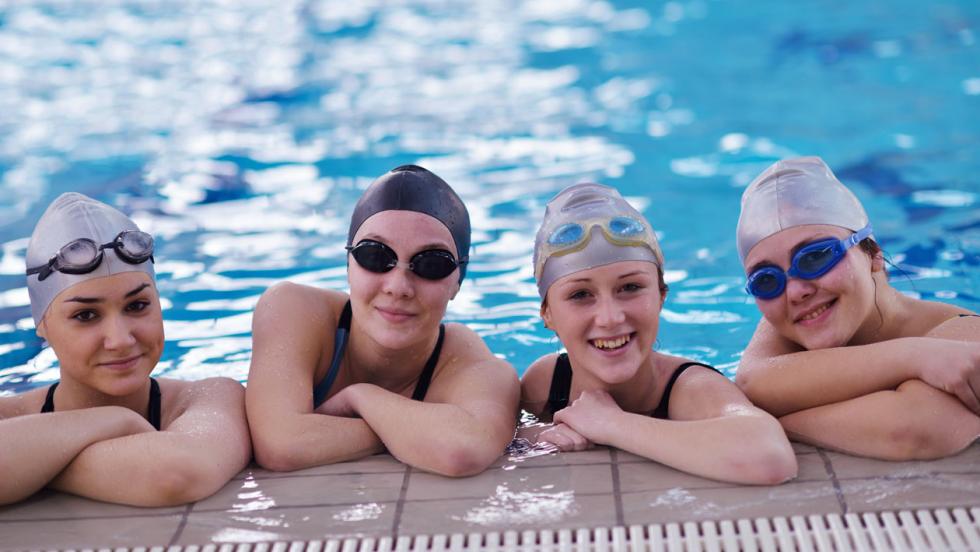 Why should you swim?
Swimming is a great sport that consists of moving through the water, it not only supports your physical health, but also your mental health. Competitive swimming is one of the most popular sports in the Olympics, and it brings great opportunities such as traveling, a chance to earn money and even swim coaching or teaching in the future. It is also a fun way to keep in shape and get moving! Swimming is for everyone, whether you choose to do it competitively or just for fun, it will keep your fitness levels good, your weight healthy, and most importantly, make you feel great.
Get Involved: Free swimming for young people aged 16 and under in Oxford
Physical Benefits of swimming:
Swimming brings along many benefits that will help your body keep healthy and strong. The physical benefits that come with it are very important and you will begin to notice a difference after just a few weeks. Swimming...
Gets you fit
Tones your body
More muscle!
Helps maintain a healthy weight, healthy heart and lungs
Improves Posture
Boosts the immune system
Join a club! Thame Swimming Club
Did you know that just 30 minutes of swimming front crawl burns 300 calories? That's more than double that of walking!
Getting Started
There are a range of leisure centers and swimming pools across Oxfordshire. Find your local swimming pools on your district council website:
Swimming has loads more benefits!
Swimming not only physically benefits you, but it also improves your mental health and wellbeing.
Mental health benefits of swimming:
Releases endorphins (These are natural feel-good hormones that increase positivity and bring about a sense of wellbeing and happiness)
Reduces stress
Boosts brain health (being in the water increases blood flow to the brain)
Great way to meet new people and make new friends
The repetitiveness and the cool water have soothing effects on your mind and body
Did you know that 30 minutes exercising in the water is worth 45 minutes of the same activity on land?
The video below shows how swimming in a pool can have a positive impact on mental wellbeing:
Why I swim competitively
Swimming competitively requires a lot of hard work and dedication. It has given me a range of skills and opportunities throughout my life. Some of these include, time management, organization, coordination, confidence and teamwork. All these skills have helped me become a better person and more confident in myself. They could also help you when looking for jobs in the future as employers often look for a well organized and time managed person. I have been swimming competitively for around 9 years now and find that it is very fun, I have also made many new friends along the way. Another thing I love about swimming is the opportunities to travel, once you become more advanced, you get to go to many places within the UK and around the world. For example, I went on a week-long training camp in Malaga, Spain which was a great experience to train in a different environment. I am also traveling all over the UK for competitions, to places such as Scotland, Wales, London, Sheffield and much more. I am currently at national level and swimming has allowed me to have ambitions and goals as a child, I am hoping to aim for an international level soon. Achieving these goals is very uplifting and makes me feel accomplished. You should get into swimming, even if you choose to do it non-competitively, it still brings many benefits and experiences for anyone who chooses to do it. - Illizane, 15
Join a club! Witney and District swimming club
Did you Know that swimming improves memory function and thinking skills? This is good for the classroom and work.
Your Questions answered:
How long do I need to swim for? Start by doing three sessions a week each half an hour long, this will ensure that you keep fit. If you begin to feel more confident, then gradually increase how many times a week you swim or the length of your sessions.
I don't think I am good enough to start competitively. Swimming competitively does not require a certain skill level, clubs have a range of different swimmers with different skills and stages. They are often split up in groups to match the different skill levels of the swimmers, so you are bound to fit into one of them.
None of my friends do it. Swimming is a sport filled with friendly and welcoming people, it is a perfect opportunity to make new friends and meet new people.
What if I get hurt or injured? Injuries are incredibly rare within swimming and if they to tend to happen, it is most likely very minor. It's the only sport which is completely non weight-bearing, so it is hard to injure yourself in the pool. If you do get injured elsewhere, low-intensity swimming is great way to recover from injury, especially if you are sore from a long work-out.
What if I look silly? Swimming is a great sport because everyone's stroke looks different, there is no 'right' way to look while swimming. You will also gain more confidence as you swim more and more, which will boost your self-esteem.
Did you know that swimming is a good choice for those with asthma, the breathing exercises in swimming can help to expand lung capacity and give people with asthma more control over their breathing. Though some people find pool chlorine can make symptoms flare up,  finding healthy activities you enjoy is really important for anyone suffering from asthma and many people find swimming is a good choice.
Learn how to swim
Learning to swim is always worthwhile. It stops you panicking and gives you skills to keep yourself safe. It can be done at any age and is not a difficult task if you have the right support.
Although much of the UK does know how to swim, 1 of 5 adults in England do not and 1 in 3 children between the ages of 10-16 currently cannot swim. Swimming is a skill that can save your life. 
Particularly in the summer, when it gets hot, people may go to rivers and waterways to cool down. At other times of year, people who walk or hang out by the water at risk of falling in or even being pushed in, especially during floods. Learning to swim helps you keep safer if you end up in the water. Find out more about river safety.
Learn how to swim here:
There are swimming lessons for all ages, from children to adults throughout Oxfordshire. Here are some, but there are others, so you can find one to suit you!
Did you Know that the colour blue is often thought of as calming? It reminds us of the natural world such as the sea and sky. Find out more about how swimming boosts your mental health.
By Work Experience Student, Illizane Pinfold
Find out more
Swim England
&nbsp&nbspSwim England is the home of swimming and gives news updates, information about swimming, and how to join or start.
British Swimming
&nbsp&nbspThe GB website for swimming, with latest swimming events, team GB athletes, and news and information on swimming.
Swimming for fitness (NHS)
&nbsp&nbspStill unsure about starting swimming? Read about the great benefits of swimming, getting started, and staying motivated.