Supporting a young person
Every parent wants to know how to best support their child. During the coronavirus epidemic there have been lots of challenges to wellbeing for parents and children. Find links to sources of national and local support here.
Image
Supporting your child to return to learning
Young people are less vulnerable to the covid virus. But their lives, friendships and learning have all been disrupted . The good news is that young people are resilient and resourceful. Many have managed to keep in touch with friends, carry on learning, and think about their futures successfully. 
However, you may feel that they need more support, for example to:
Reconnect with friends
Catch up with school work
Think about their next steps
Schools in Oxfordshire all have their own plans for looking after pupil wellbeing and safety. Oxfordshire Further Education Colleges are supporting those who need to move on from school post 16. For those ready to start work, there has been an increase in apprenticeships available. 
Keeping up to date
You can always access the latest information on Coronavirus on the Oxfordshire County Council website, along with other information for parents.
If your child is not in education, employment or training
For some children, this has been a difficult time. But all children should be in learning up until age 18. This does not have to be at school or college, they can also take part in official work-based learning such as an apprenticeship.
If your child is Not in Employment Education or Training (NEET) support is available. For children aged 16-18 (sixth form age) support is available from the EET  Support Service (for younger age groups, contact your school). This will help them find a suitable offer of learning or progress to an apprenticeship.
Children aged 18+ can get support from their local Job Centre+, who have special advisers for younger job seekers.
Oxfordshire's Family Information Service offers support around childcare, lists activities for young people, and contains lots of information to support families where a child has a disability, including learning difficulties or disabilities. Find out more about your local services and activities, search for facilities and childcare and more.
Image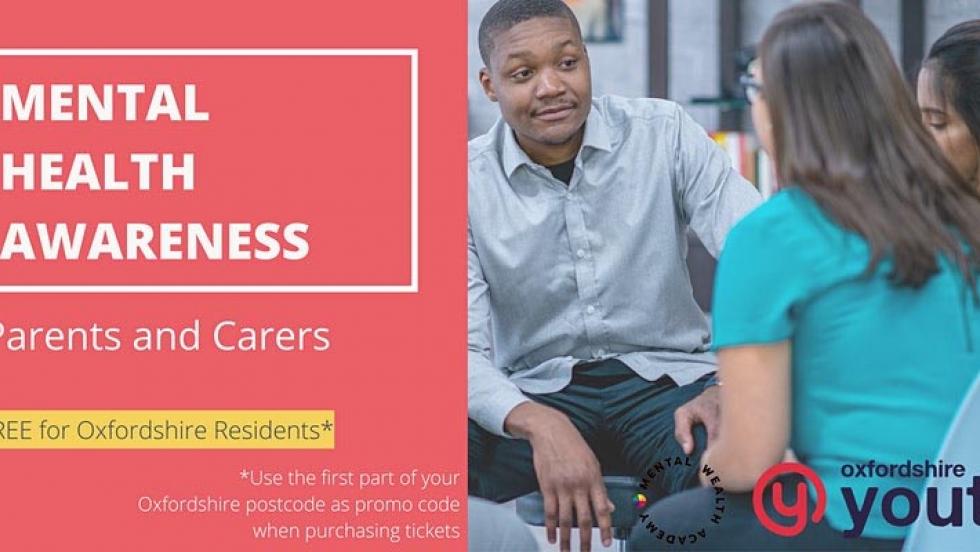 FREE Mental Health Awareness training for parents in Oxfordshire 
Oxfordshire Parents can access free Mental Health Awareness training for parents delivered by Oxfordshire Youth and the Mental Wealth Academy.
There are course dates throughout 2021 and courses are safely and conveniently delivered online. Find the most convenient dates for you and register at:
Oxfordshire Youth Events - Eventbrite
The session helps parents support mental health of adolescents and young adults, and includes support to:
Identify emotional distress
Know where, and how, to signpost children and young people if you, or they, have a concern
Learn practical strategies to help with listening to, and supporting, children and young people
Develop your understanding of the wide range of factors and variables that can impact on children and young people's mental health
Feel more confident and less fearful having 'the conversation' with your child or young person
The session lasts 1.5 hours and includes presentations and group work, providing the opportunity to speak with other parents and carers about young people's mental health.
Since the launch of the training, Oxfordshire Youth has received extremely positive feedback from attendees. Parents and carers have improved their confidence, knowledge and understanding around young people's mental health. Sign up for your FREE course today!